Hi! This is a barcode.
Do you realize that there is one on every item that you purchase whether you are at a convenience store, malls, pharmacies, etc.? If you think about it, barcode has become a part of our daily lives. We see it everywhere but what exactly does it represent? Why do cashiers scan them before purchasers make a payment? Why is that necessary? Well, have a read.
WHAT ARE PRODUCT NUMBERS & BARCODES?
In product numbering, each product is assigned a unique set of number to identify it. The number is converted into a bar code in which letters and/or numerals are represented by a series of black bars and light space as shown in the barcode diagram above. A small spot of light then passes over the bars and spaces via a scanning device. The set of numbers itself does not classify nor carry information. Detail for each product is inputted by barcode users into their own created database system based on its unique number set. In the future, the system will tally the number set and disclose the information when scanned. There are several types of bar codes symbology used globally such as European Article Number (EAN), Uniform Product Code (UPC), Code 39, Interleaved 2 of 5, Codabar, and more. EAN system is adopted in Europe, Japan, Australia, New Zealand as well as Malaysia. In Malaysia, the EAN system was previously known locally as the Malaysian Product Numbering (MPN) system. Most EAN number consists of 13 digits that serve different purposes, which are coded as shown below:

However, smaller sized items that cannot accommodate an EAN 13-digit use an 8-digit version instead. The diagram below shows the coded EAN 8-digit numbers obtained from the Federation of Malaysian Manufacturers (FMM):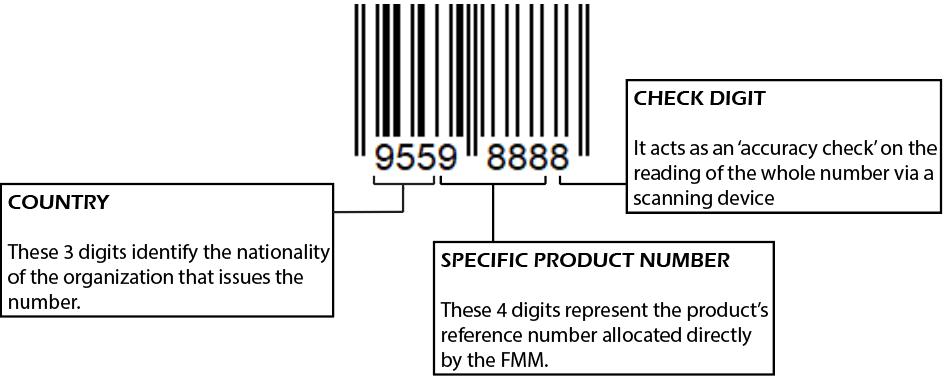 WHY DO WE USE PRODUCT NUMBERS & BAR CODES?
With barcodes, companies are more efficient when carrying out their businesses. Information about goods, from individuals to huge stocks of thousands or even millions of items is stored and can be tracked easily. As mentioned, each item has its own unique set of numerical figures which is essential when it comes to data collection purposes. However, is that all there is to it? Of course not, barcodes together with the product numbering system serve several important roles that give them a huge edge over manually entering information. Let's have a look.
1. ERROR PREVENTION
It is without a doubt that tracking individual items manually leads to human errors. Subsequently, it makes your inventory less accurate which costs more money. However, with barcodes, items with an error rate of about one for every few million entries can be tracked easily. With this rate, it makes barcode nearly thousands of times more precise than manual entry.
2. COST SAVINGS
Barcodes help companies save a huge chunk of cash. Before their emergence, employees tracked merchandise. When large goods quantities are tracked, it leads to more money spent on new hires and more time wasted. Cutting excess employees allows companies to operate more efficiently as well as increase the bottom line when the barcode is used instead.
3. SPEED
A barcode tracking system's speed is advantageous especially for inventory reasons. It allows tracking to be done quickly. Clerks do not have to go through the hassle of keying in prices when barcodes can be scanned to identify the goods' cost immediately at checkout lines. Although it's not something new, it's worth mentioning that with barcodes, customers no longer need to wait very long when someone else purchases several items when queuing at the counter. Each time a barcode is scanned, the item is logged within the right inventory immediately and accurately.
4. WORLD TRADE FACILITATION
The product numbering system is a comprehensive method where every retail item is allocated a distinctive product number that is visible on the pack & represented by a scannable barcode. Even though each country has its own set of numbers, it can be read by other countries' scanners. Due to its international compatibility, product numbering facilitates world trade where stores can scan both imports and locally made products.
5. THE ULTIMATE BENEFICIARIES
(a) Hospitals - Barcoded wristbands are used for patients' safety. They provide the healthcare providers with their patients' essential information just by scanning on barcode.
(b) Manufacturers - Production control is managed more efficiently as barcoded labels are used to provide products' particulars. Moreover, awareness is also enhanced as manufacturers can source immediate & accurate sales details.
(c) Retailers - With barcodes, retailers are able to easily scan merchandise to update their inventory automatically and for pricing purposes. Next, they are also able to efficiently handle their stocks from ordering to dispatch stages. Barcodes eliminate human errors and allow for speedier dispatch of orders smoothly. Supply & demand of goods are better matched off too. With better inventory management, retailers can avoid having "out of stocks" issues.
(d) Produce suppliers - They use barcoded thermal labels on goods, mainly fresh food. Reason being, in the event of a problem, they can trace sources with minimum amount of time. Hence, actions can be taken immediately to prevent unwanted incidents such as food poisoning which leads to reputational & legal risks against the good suppliers.