RFID, also known as radio-frequency identification, is a technology that uses radio waves to transmit information from RFID tags to an RFID reader.
An RFID tag has a sensor with unique identifiers that connects to an antenna, allowing data to be transmitted to the reader. The three types of RFID tags are active, passive, and battery-assisted passive. Their mechanisms are shown below:-
Active RFID tags - Have their own transmitter and power source (battery). The types of actives RFID tags are transponders and beacons. Transponders transfer data after receiving a reader's radio signal. Beacons, on the other hand, emit a signal at a pre-set time interval.
Passive RFID tags - Receive power from the signal sent by the reader and reflect energy to the reader in return.
Battery-Assisted Passive RFID tags - Called semi-active or semi-passive. They function similarly to active transponder tags because they respond by receiving a signal from the RFID reader too. After receiving the signal, it stimulates their internal batteries which power the integrated circuit (IC) to send out the tags' relevant information.
An RFID reader can scan at least 100 tags at a time and does not require a line of sight visibility.
RFID comes in three main forms: low frequency (LF), high frequency (HF), and ultra-high frequency (UHF).
Before we go in-depth, let's understand what frequency is. Frequency refers to the number of waves that pass a fixed location. RFID's waves are measure in Hertz. Hertz is a type of frequency that measures the number of times wave passes a fixed location within one second.
Alright! Let's take a look at each type and how it is applied respectively in our everyday lives.
I. LOW FREQUENCY
Low frequency RFID is under 134.2 kHz. Its short frequency range indicates that the tag has to be in close contact with an RFID reader for data to be transmitted.
| | |
| --- | --- |
| TAG CATEGORY | Passive |
| FREQUENCY | 134.2 kHz |
| COST | Low |
| READ RANGE | Few centimeters to inches (Short) |
| READ SPEED | Slow |
| ABILITY TO READ MULTIPLE TAGS SIMULTANEOUSLY | Yes |
| WORKS WITH METAL | Yes |
| WORKS WITH LIQUID | Yes |
Example of applications:
Access Control
In this modernized era, most companies have opted for RFID instead of ID badges in the past. RFID badges act as a "key" to access the office buildings. These badges are low frequency tags; hence users must place them near the door badges (reader) to function properly. With efficient access control, RFID provides better security too.
Animal Tracking
RFID tags are commonly used on animals, especially cows, as they offer a durable method to track the animals over some time, from birth until they reach the customers. If the meat is contaminated, grocery stores can detect exactly the batch of meat that needs to be recalled immediately and even which animal it came from. RFID tags are very suitable due to their long durability despite the ever-changing weather conditions and close contacts with other animals.
II. HIGH FREQUENCY
High frequency RFID is from 1.75 MHz 13.56 MHz. HF RFID tags normally have a general read range of ten centimeters up to a meter in length depending on the system's set up.
| | |
| --- | --- |
| TAG CATEGORY | Passive |
| FREQUENCY | 1.75 MHz to 13.56 MHz |
| COST | Low |
| READ RANGE | 10 centimeters to 1 meter (Mediocre) |
| READ SPEED | Medium |
| ABILITY TO READ MULTIPLE TAGS SIMULTANEOUSLY | Yes |
| WORKS WITH METAL | Yes |
| WORKS WITH LIQUID | Yes |
Example of applications:
Medical Supplies Inspection
HF RFID is used to keep track of the surgical items, especially when a patient is being operated. A check and balance system assists doctors & nurses to monitor the number of scalpels used during surgery to ensure none are unintentionally left out. An RFID reader can compute the number of scalpels before and after they are used. If 4 scalpels were "departed", medical staffs can make sure all 4 are present after the operation.
Libraries
HF RFID enhances the smoothness of the book checkout & return system in libraries. Every book is embedded with its unique RFID tag. At the checkout desk, borrowers stack books on an RFID reader pad which detects the RFID tags. This inputs the book title, genre, price, and other important information in the system. When they return the books in the book drop, an RFID reader uses the information in the RFID tags to sort the books accordingly. RFID technology does offer a more accurate and less time-consuming method to have books back on the shelves.
Quality Control
Wine industries heavily rely on RFID to keep track of the wine's quality from the time it leaves the winery until it reaches the retailers and distribution center. The RFID tags can be computed to check on the temperature and other environmental factors that can alter the wine's quality.
Yes - there is a saying that goes by, "the better the wine, the longer it can age" . However, wine does expire and that depends on its quality and how it is kept. If the data collected from the RFID tag shows that the wine has been stored in a suboptimal environment for too long, it should be taken out from the wine cellar and be sold immediately to preserve its taste.
III. ULTRA HIGH FREQUENCY (UHF)
Ultra high frequency ranges from 800-900 MHz and higher.
| | |
| --- | --- |
| TAG CATEGORY | Passive / Battery-Assisted Passive / Active |
| FREQUENCY | 800 MHz to 900 MHz |
| COST | Very low |
| READ RANGE | Up to 50 feet |
| READ SPEED | Fast |
| ABILITY TO READ MULTIPLE TAGS SIMULTANEOUSLY | Yes |
| WORKS WITH METAL | No |
| WORKS WITH LIQUID | No |
Example of applications:
Manufacturing & Industrial Asset Management
Ultra high frequency (UHF) RFID offers flexibility and shines in applications that call for long-range reads especially in the manufacturing and industrial line. Manufacturing and industrial sectors store huge amounts of goods and raw materials in their warehouses. With thousands of them, UHF RFID makes this level of tracking possible because it allows manufacturers to identify any goods with a UHF RFID antenna being able to read the tag embedded on every good. Hence, the UHF system can provide extra coverage to take into account any small differences in positioning.
Did You Know?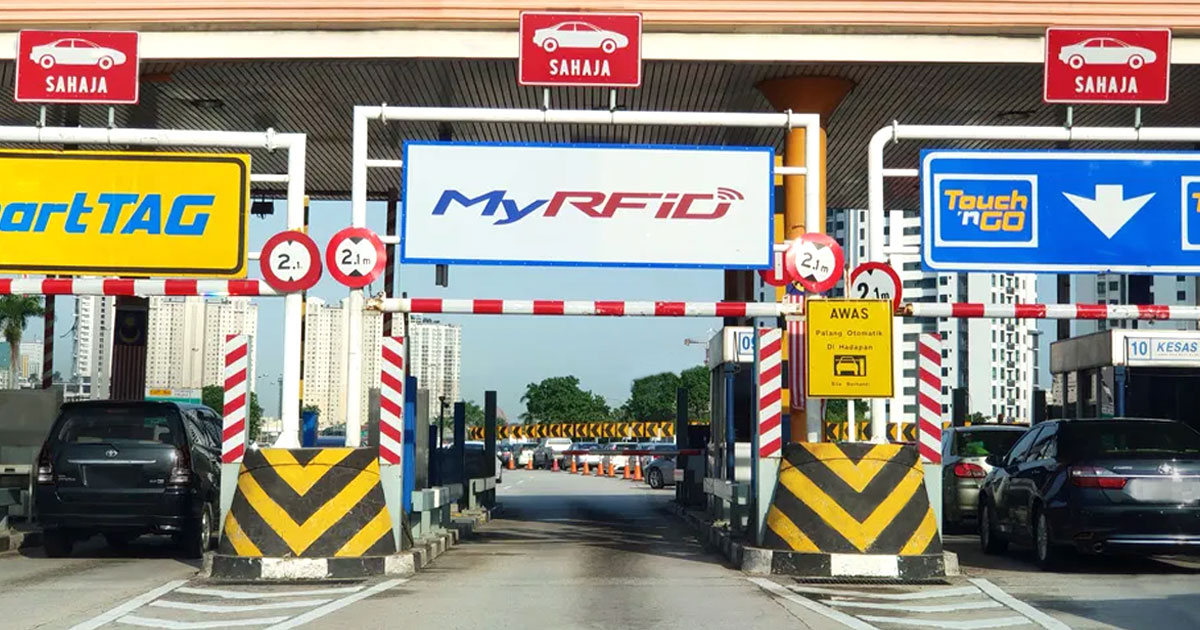 Malaysia, too, has implemented a large operation involving RFID since January 2019.
Yes, it is called MyRFID, an open toll system powered by Touch 'n Go.
This system works in two parts. First, you put a sticker with an RFID tag embedded in it, on your car. On the other hand, toll booth has an overhead scanner mounted in it that acts as the RFID reader. As you drive near the toll, the scanner sends its signal to the sticker to provide payment information such as price amount, RFID tag owner, etc, in return. The owner's TNG eWallet will then be deducted.
This implementation is done with the vision of reducing toll collection time to ease the traffic flow at toll plazas. So far, the RFID system is an upgrade over the SmartTAG implementation because it is quicker to read, more accurate, and does not require batteries to work. You just have your RFID sticker on and you are good to go.